On November 19, 2019, Zion National Park will celebrate its 100th birthday. To commemorate the centennial celebration of Utah's first national park, here's a look back at 100 years of history and adventure.
1919: Zion National Park Established
Originally known as Mukuntuweap National Monument, Congress officially established Zion National Park on November 19, 1919. Zion was Utah's first of five national parks.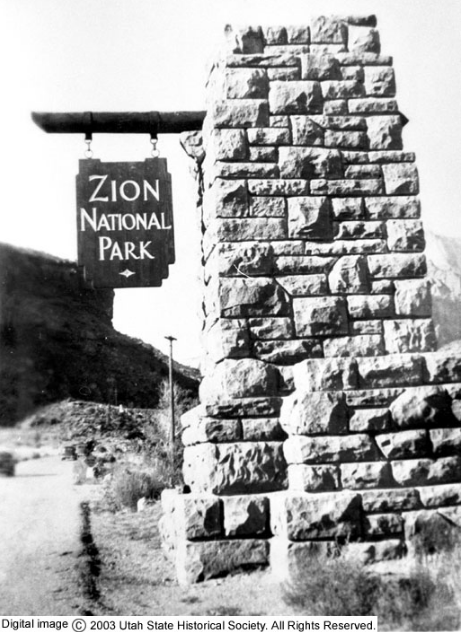 1920s
Trail Construction in Zion National Park
Construction began on many of Zion's trails in the 1920s. The Riverside Walk, Observation Point, and West Rim trails were created in 1925, and the path to Angels Landing was finished in 1926 following the completion of the East Rim Trail. The infamous Walter's Wiggles, a series of 21 steep switchbacks along the Angels Landing trail, were also constructed in 1926 and are named for Walter Ruesch, Zion National Park's first superintendent. The Zion Lodge was constructed, and work on the Zion-Mount Carmel Highway began, which would enable reliable access to the east side of the park.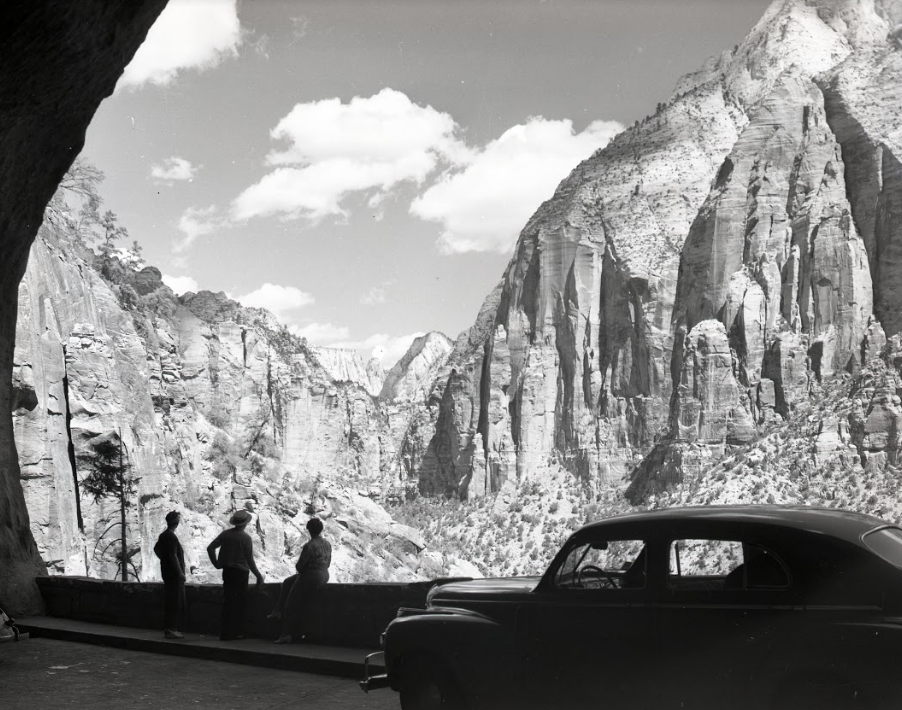 1930s
Zion-Mt. Carmel Tunnel Brings Tourists to Zion National Park
The Zion-Mt Carmel Highway, completed in 1930, opened up the park on the east side, increasing the number of visitors to Zion National Park and giving easier access to Bryce Canyon and Grand Canyon. The 1.1-mile Zion-Mt. Carmel tunnel cuts through the vertical sandstone cliffs of Zion, and features windows that showcase views of Zion Canyon.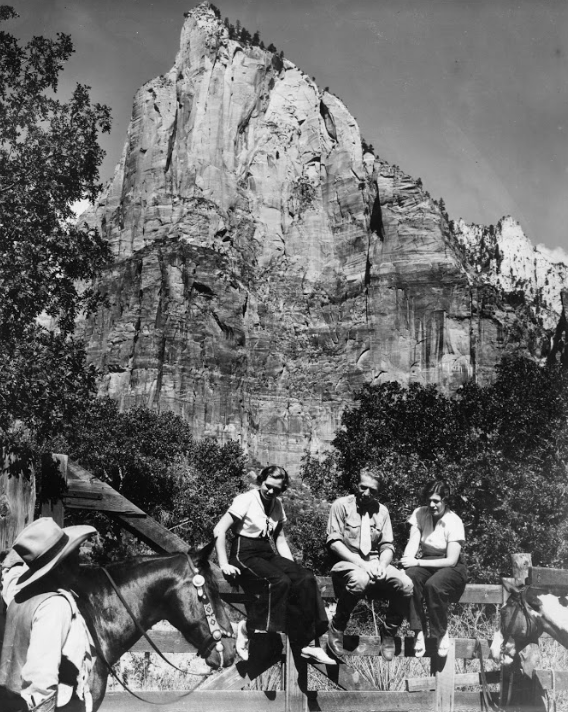 1940s
Guided Horseback Adventures in Zion
Happy trails! In the 1940s, adventurous visitors to Zion National Park could enjoy guided horseback tours to The Narrows or Angels Landing for just $3, or to the East or West Rim of Zion Canyon for $5. The 1940 Zion Guidebook also lists women's riding outfits available for rent at the Zion lodge.
In 1941, world-renowned photographer Ansel Adams (featured photo at top) was tapped by the newly formed Department of the Interior to photograph U.S. national parks. His iconic photos of Court of the Patriarchs, the Great White Throne and more created a visual connection to Zion National Park for the general public.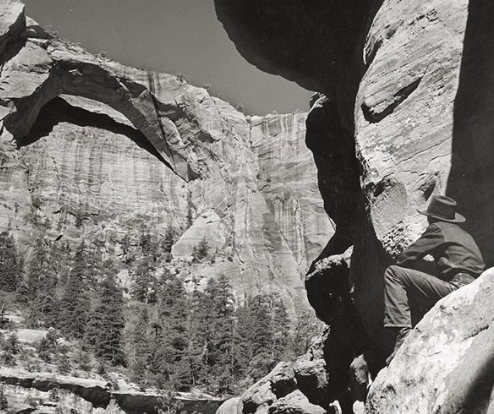 1950s
Kolob Canyon
Kolob Canyon, named a national monument in 1937, was officially incorporated into Zion National Park in 1956. Located in the less-visited northwest part of the park, Kolob Canyon's 2,000-foot cliffs shouldn't be overlooked when camping near Zion. Kolob Arch, one of the largest freestanding arches in the world, can be reached with a 7-mile, out-and-back hike via the La Verkin Creek Trail in Kolob Canyons.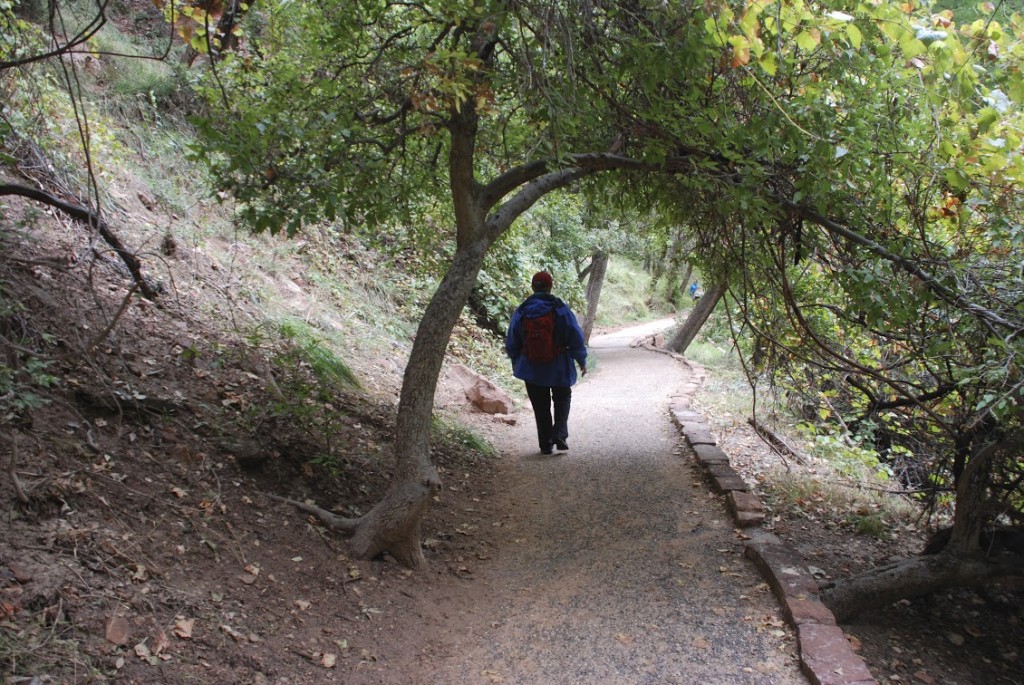 1960s
Gateway to the Narrows
On August 1, 1968, a rockslide buried a 250-foot portion of the Riverside Walk trail on August 1, 1968. In true pioneer spirit, the trail was routed over the fallen rock and then paved. As the "gateway to the Narrows," Riverside Walk is one of Zion National Park's most popular trails, and one of two wheelchair-accessible trails in Zion Canyon.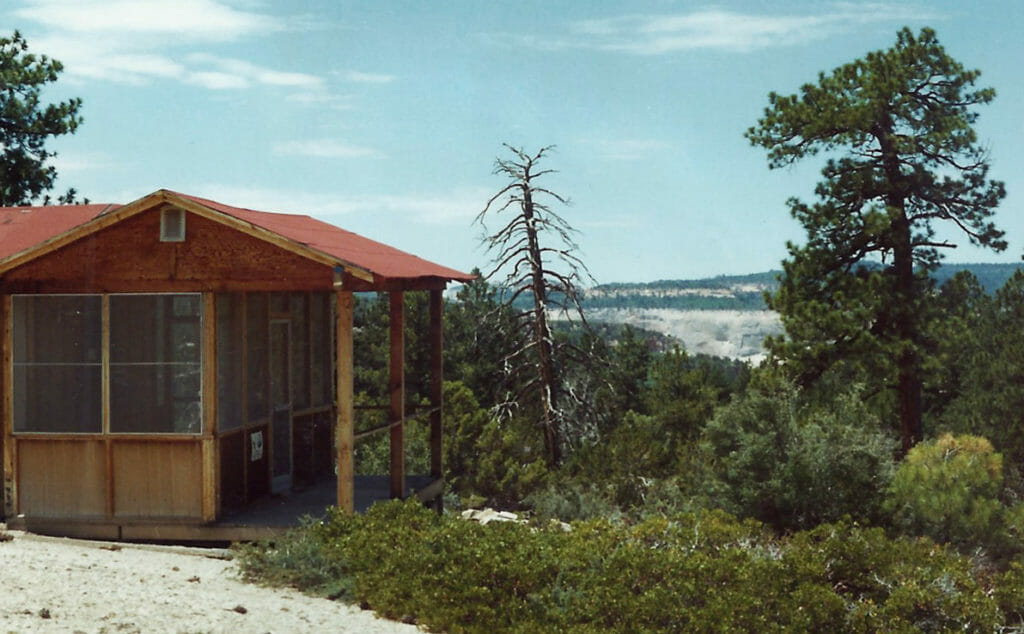 The 1960s saw the beginning of dream, when Ray Lewis purchased 8,500 acres of "high desert property, covered with Ponderosa Pine." A successful businessman in California, Ray longed to return to his beautiful and beloved home state of Utah. As he stood atop Pine Knoll, the highest point on the property that would someday become Zion Ponderosa Ranch Resort, Ray looked down into Zion National Park and envisioned a place where people could come from all over the world to experience the beauty and grandeur of Zion.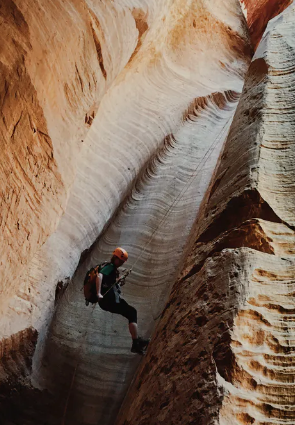 1970s
Zion Canyoneering Adventures
The Zion region has been one of the premier canyoneering destinations in the U.S. since the 1970s. Notable climber and professional photographer Dennis Turville was one of Zion's earliest serious recreational canyoneers. Tackling some of Zion's most famous slot canyons, Turville blazed the canyoneering trail with recorded descents into Heaps, Keyhole and Pine Creek canyons. His stunning photos that offered tantalizing glimpses into this previously unexplored adventure.
Notes from many Zion canyoneering adventures dating back to the 1970s have been recorded in The Black Book, a collection of trip reports kept at the Zion National Park visitor center. Zion National Park continues to be a canyoneering mecca beckoning adventurers from around the globe to its world-famous slot canyons, such as the Narrows and the Subway. East Zion Adventures offers a rare opportunity to explore Utah's secret slot canyons with guided canyoneering excursions that combine climbing, hiking and rappelling through some of the most stunning landscape in the region.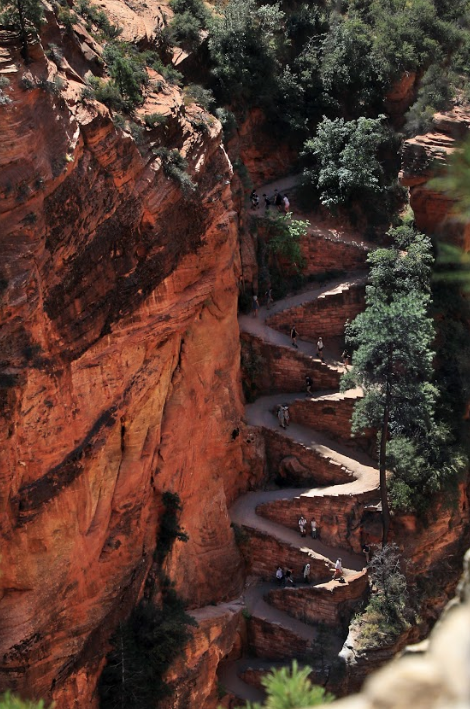 1980s
Zion National Park Trail Improvements
In 1985, extensive repair was done on the West Rim Trail at 4,900 feet, through Refrigerator Canyon to the top of Angel's Landing. The concrete for this job was hauled in by maintenance mules through the Grotto. An astonishing 88 cubic yards of concrete were helicoptered in to resurface Walter's Wiggles. Next time you're hiking in Zion National Park, be sure to take a moment to appreciate the hard work that went into maintaining and improving Zion's amazing trails!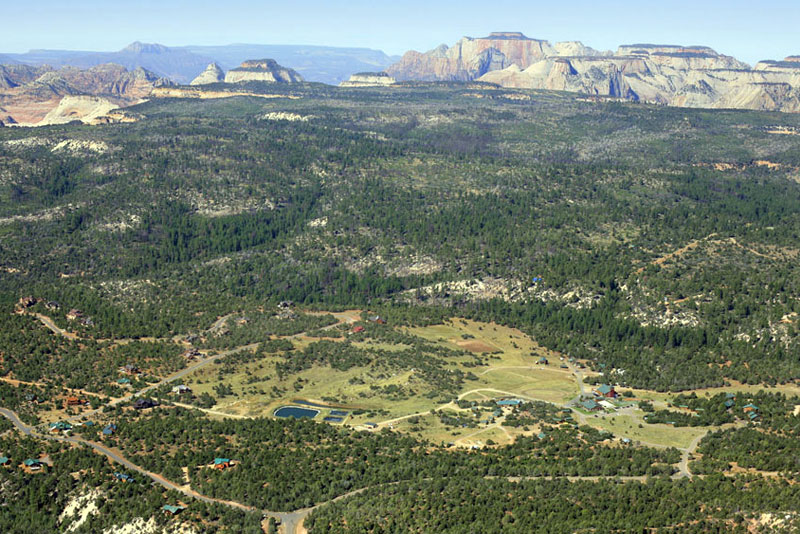 1990s
Zion Ponderosa Opens
As the visitor population grew, so did the need for lodging outside of Zion National Park. The dream of Zion Ponderosa Ranch Resort began to take shape in 1994 with the construction of the original 16 guest cabins, showers, a pole barn for dining and recreation, and a pool. Zion Ponderosa Ranch Resort officially opened for Zion camping, lodging, dining and recreation on Memorial Day 1995.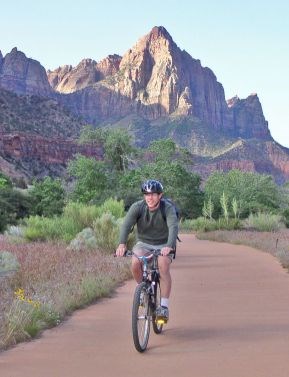 Zion National Park's Pa'rus Trail was constructed that same year. The paved 1.7-mile trail is a favorite with bicyclists and follows the Virgin River from the South Campground to Canyon Junction. It's the only dog-friendly trail in Zion, as well as wheelchair accessible and stroller friendly.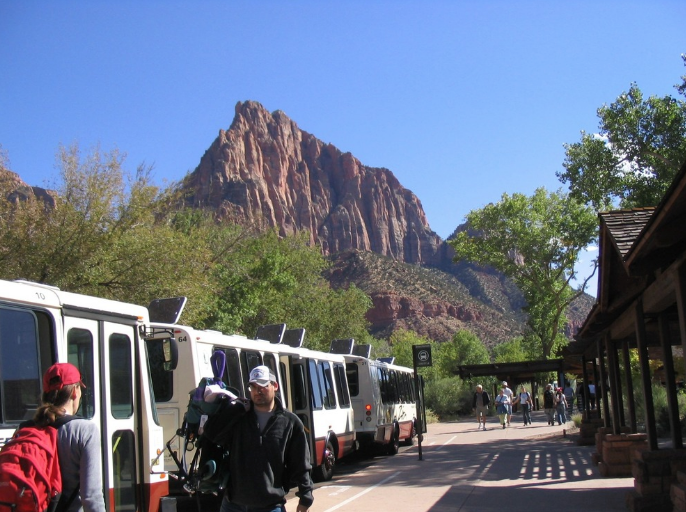 2000s
Zion Canyon Shuttle
The Zion Canyon Shuttle Bus system began in 2000 as a way to ease growing traffic congestion in Zion National Park. For those willing to travel on foot, Zion Crest Campground guests can actually hike down into the park right from Zion Ponderosa property, as well as hike to Observation Point, one of the most scenic overlooks in Zion.
In 2009, President Obama further expanded Zion National Park's boundaries, with the addition of 124,406 acres of land designated as Zion Wilderness.
November 19, 2019
Zion celebrates 100 years as a national park! #100YearsofZion
Click here to book your Zion camping adventure.