Utah's oldest national park is also one of the most visited in the entire National Park System. One visit and it's easy to see why campers and tourists flock to Zion National Park from around the world. Carved by the Virgin River, which flows through the park, Zion's massive cliffs and canyons will leave you in awe.
Beginner's Guide to Zion: The six sections of the park are Zion Canyon, Upper East Canyon, The Narrows, Kolob Canyons, Kolob Terrace, and Desert Lowlands. Most visitors spend their time exploring the popular Zion Canyon. This is where you'll find some of Zion's most iconic formations such as the Great White Throne, Court of the Patriarchs, and trailheads to popular hikes such as Angels Landing and Riverside Walk.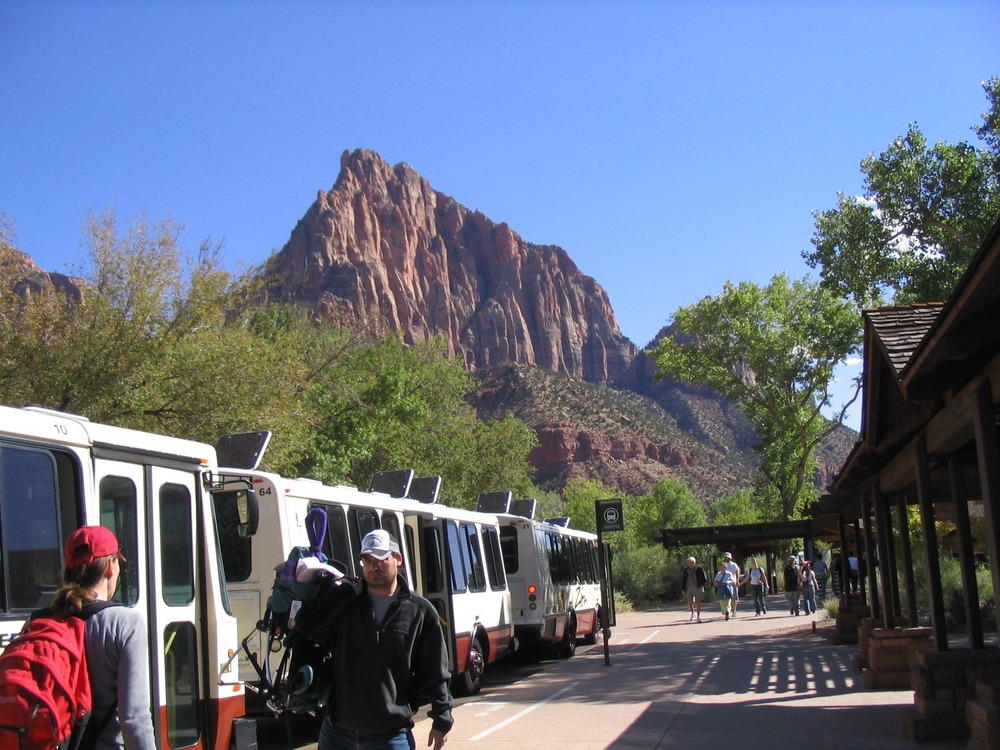 Zion Shuttle
A free shuttle takes visitors to eight stops throughout the main canyon:
• Zion Canyon Visitors Center: Located just north of the park entrance, the Visitor Venter is a must for first-time visitors. The Watchman Trail and Pa'rus Trail can be accessed here.
• Zion Human History Museum – Open March through November.
• Canyon Junction – A minor stop at the junction of Zion Canyon Scenic Drive and Route 9. Pretty views, river access, and the end of the Pa'rus Trail.
• Court of the Patriarchs – A short trail leads to views of one of Zion's most iconic formations.
• Zion Lodge: One of the main stops on the shuttle with access to the Emerald Pools trailhead. There are restrooms, a gift shop, restaurant, and great lawn for picnicking.
• The Grotto: Access to the world-famous Angel's Landing trail, the West Rim Trail, and Kayenta Trail.
• Weeping Rock: (Currently closed.) When open, many trailheads are available at this shuttle stop, including Weeping Rock, Observation Point, East Rim Trail, Hidden Canyon, Cable Mountain and Deertrap Mountain.
• Big Bend: Views of Angels Landing and Great White Throne. Keep an eye out for climbers ascending Angels Landing.
• Temple of Sinawava –This is the last stop of the shuttle and the trailhead for the highly popular Riverside Walk, which leads to the start of The Narrows.
Note: The Zion shuttle runs March through November, and certain holiday weekends. Private vehicles are not allowed on the Scenic Drive during shuttle season.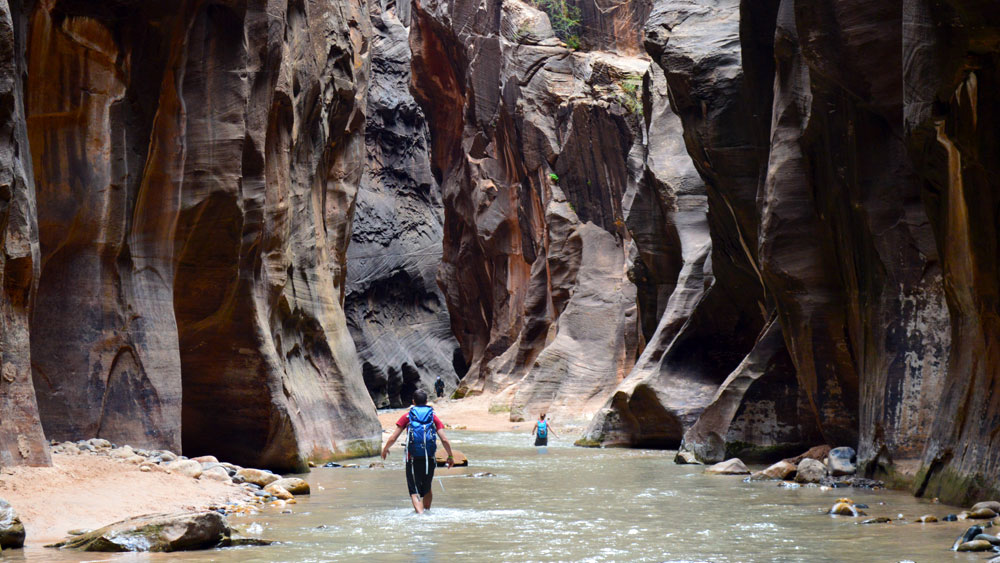 Top Hikes in Zion NP
Easy
• Riverside Walk – This 1.1-mile mostly paved trail follows the bends of the Virgin River. The world-renowned Narrows begin at the end of Riverside Walk.
• Canyon Overlook – A favorite with park visitors and photographers, this short trail leads to expansive views of Zion Canyon.
• Pa'rus Trail – This paved, accessible trail follows the Virgin River, and is open to pets and bikes.
Moderate
• Emerald Pools –Multiple hiking options include 1.2 miles to Lower Emerald Pools, 2 miles to Middle Pools, and 3 miles to Upper Pools. Waterfalls and glistening pools of water await at each section of the trail. Lower Pools is scheduled to reopen in spring 2020.
• Weeping Rock – Closed indefinitely. A short hike to lush hanging gardens and cascades of water drizzling over a cliff.
Strenuous
• The Narrows – Trek through the Virgin River in ankle-deep to waist-deep water, depending how far you go and time of year. Hike in as far as you like and turn back at any time. Plan on getting wet, making this hike ideal for scorching summer months. Narrow, soaring 2,000-foot cliffs give this slot canyon its namesake and makes the trek seem magical and surreal.
• Angels Landing – The most popular hike in Zion National Park, this 5-mile roundtrip trail starts at the Grotto trailhead. The trail ascends Walter's Wiggles, a set of 21 steep switchbacks, and lands at Scouts Lookout for a spectacular view. The last half-mile is a spine-tingling hike to the top across a narrow ridge with anchored chains for the bravest adventurers.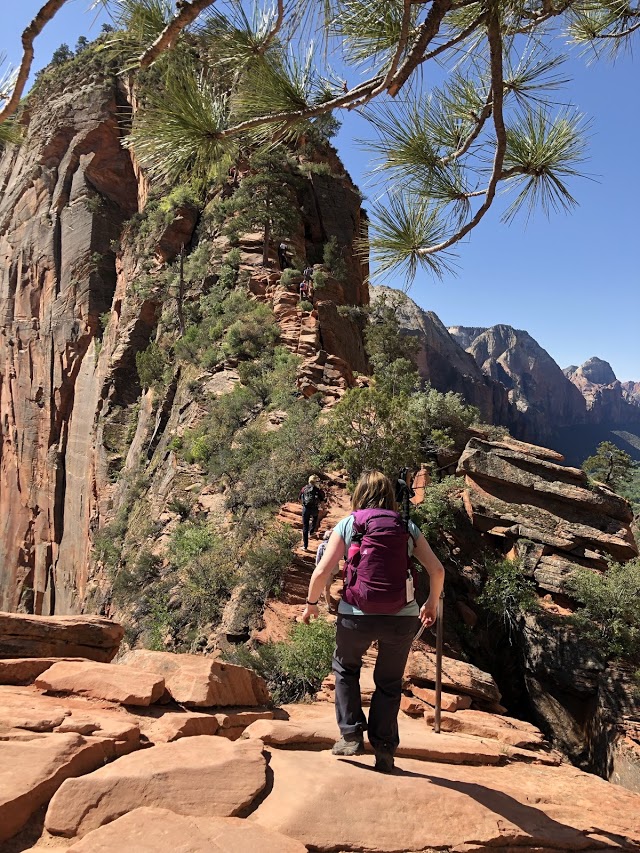 When to Visit Zion National Park
Zion National Park is open 24 hours a day, 365 days a year and every season offers a unique and beautiful experience. Summer is hot, sunny and often crowded but ideal for camping and hiking The Narrows. Spring brings flowing waterfalls, blooming wildflowers and baby wildlife, while autumn weather is typically clear and mild with brilliant fall foliage. These shoulder seasons are a great time to tackle some of Zion's busiest or exposed trails. Winter brings a quiet beauty to Zion, and there's nothing quite so serene as the cliffs and canyons blanketed under the occasional snowfall.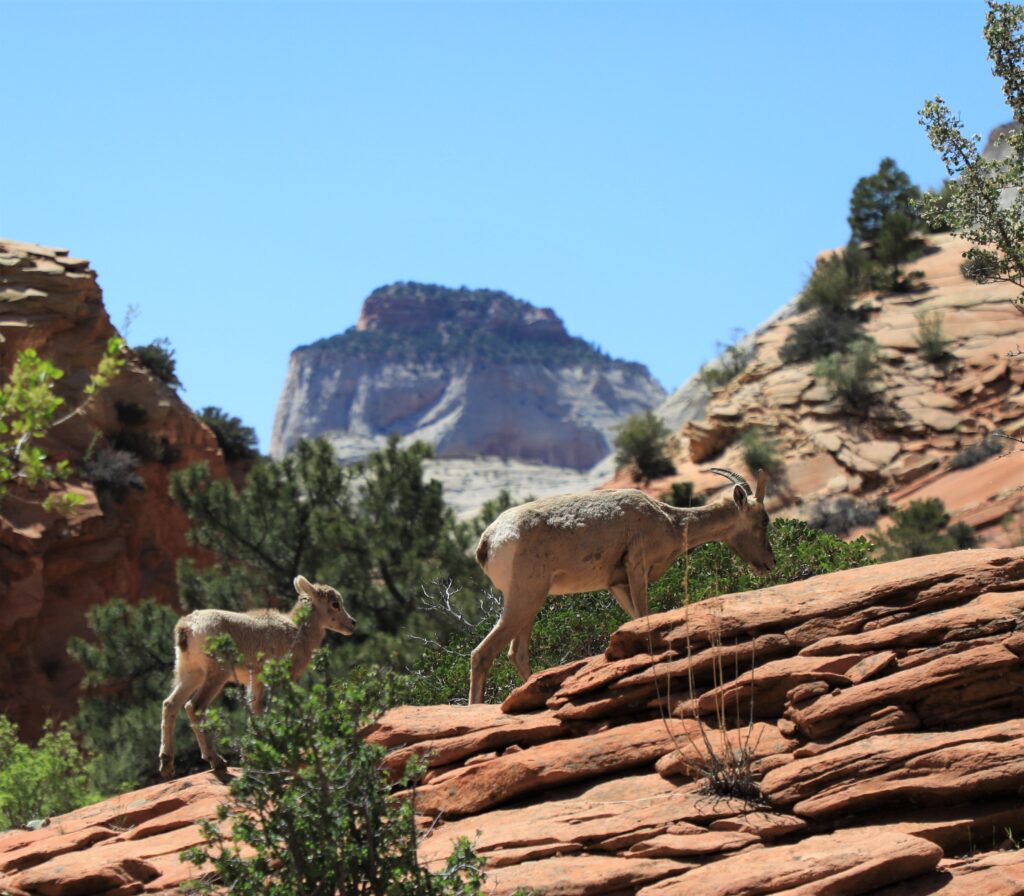 Insider tip: Leave the crowds behind and visit Kolob Canyons and Kolob Terrace in the remote northwestern section of Zion National Park. This unique and peaceful area features towering vivid orange Navajo sandstone cliffs, cascading falls, over 20 miles of hiking trails, and Kolob Arch, one of the longest arches in the world. Kolob Terrace is home to the Subway, one of Zion's most spectacular hikes.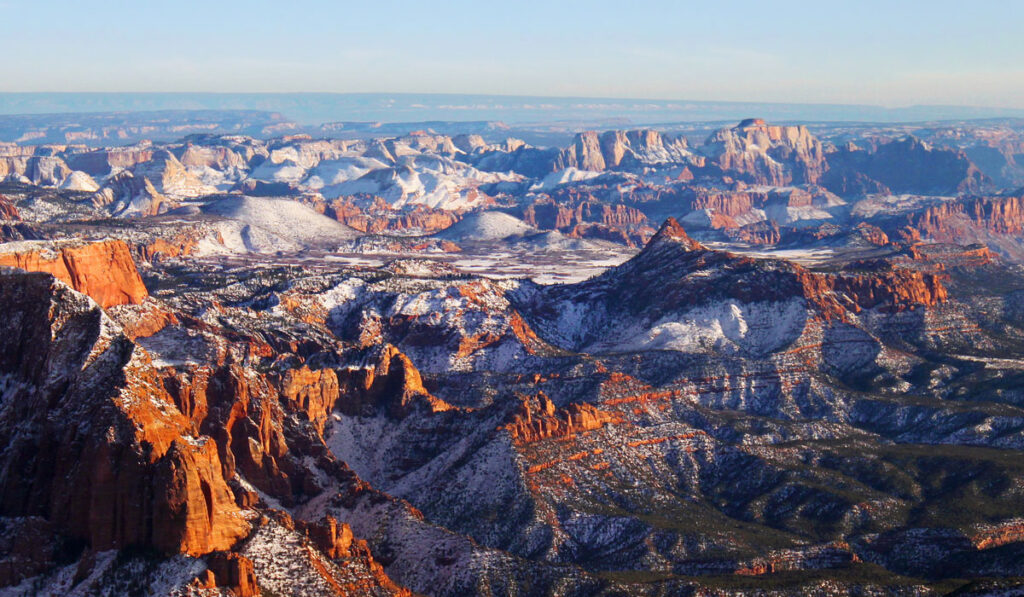 Getting There
By car, Zion National Park is just 2.5 hours from Las Vegas, 4 hours from Salt Lake City, and 6 to 7 hours from Los Angeles. The closest airports are McCarran International Airport in Las Vegas and Salt Lake City International Airport. Some connecting flights are available to St. George or Cedar City, Utah.
Zion Park Accomodations
Camping and lodging inside Zion National Park fill up fast and finding availability near the south entrance can be a challenge during peak season. Zion Ponderosa Ranch Resort offers accommodations on the east side of Zion National Park, with a variety of lodging options from luxury vacation homes to cabins, wagons, glamping, RV sites and Zion Crest camping, including an overflow campsite to accommodate peak season and last-minute visitors.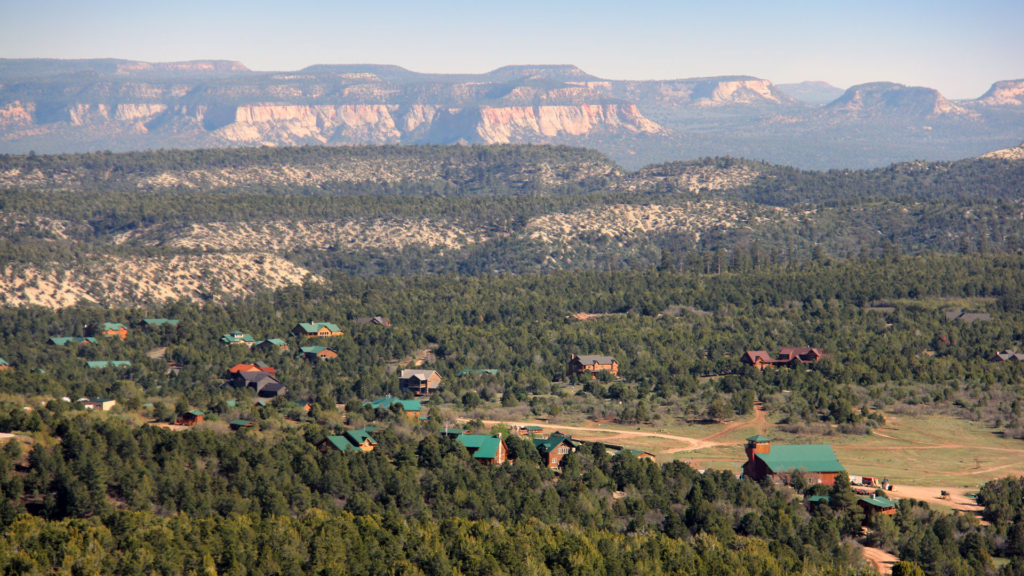 Unpack Once and Stay Awhile
Turn your Zion National Park vacation into a multi-day excursion, with Zion Ponderosa as your base camp. Nearby attractions include Bryce Canyon National Park, Grand Canyon North Rim, Coral Pink Sand Dunes, Kodachrome Basin State Park, the Grand Staircase and so much more. Tack on an iconic slot canyon adventure or backcountry Jeep tour for the full Zion experience!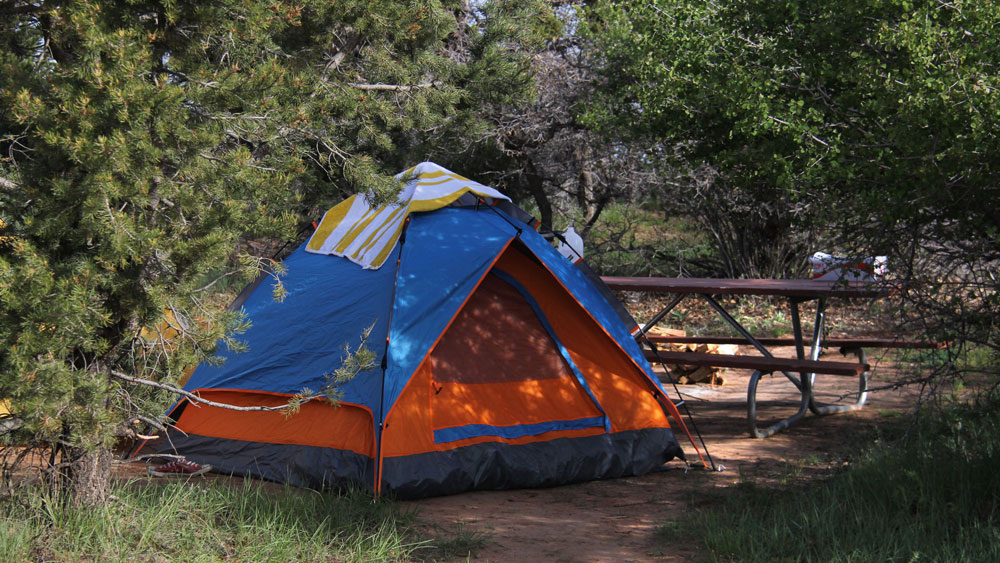 Leave No Trace
The most important way to honor and protect Zion National Park and other public lands is to practice Leave No Trace principles.
1. Plan ahead and prepare
2. Travel and camp on durable surfaces
3. Dispose of waste properly
4. Leave what you find
5. Minimize campfire impacts
6. Respect wildlife
7. Be considerate of other visitors
For more information about Zion National Park, visit nps.gov/zion.